The Triolet Campus
The Triolet campus is located in the north of montpellier, next to the town center. The campus main entrance is located Eugène Bataillon square. The conference desk will be held in the entrance hall of hall 31 (Polytech).
The campus main entrance is in front of a recognizable doughnut-shaped red sculpture. From this main entrance, hall 31 is slightly to the left.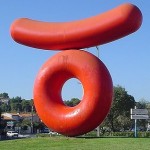 Access by tramway (recommended)
Line 1 : "Universités Sciences et Lettres" station (about 25 minutes from Montpellier Saint-Roch train station).
On foot, you need 8 minutes to go from the L1 tram station to hall 31 (Polytech):
Please take a look at the transport map of Montpellier.
Access by car
Compute a travel plan :
Place Eugène Bataillon
34090 Montpellier
GPS coordinates (WGS84) : Latitude: 43.631336 | Longitude: 3.86108
Warning: cars are not allowed to enter the campus without a special authorization.